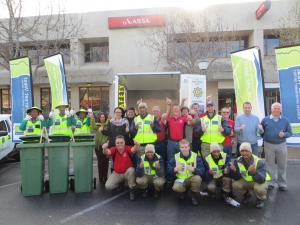 It might not have been the sunniest of Spring days, but the new team of the Somerset West City Improvement District Special Ratings Area [SWCID] were on their posts for the officially launch of the SWCID. Business owners and the public at large can now look forward to a renewed business environment which is safe, clean and better managed for businesses to flourish and people to feel safe and secure when they are in the area.
"We want the people of Somerset West to return to our CBD. The establishment of the SWCID is the first step towards recreating a safe and clean CBD and restore it to its former glory," says Michelle Theron from Nadprop Property Management and chairperson of the SWCID. Michelle, together with her vice chairperson, Christiaan Erasmus, and a few other directors attended this morning's launch in Main Street.
"It is a way of getting the people of Somerset West together again so that we can as a community recreate an environment where people can walk and feel safe. I believe this SWCID's visibility on the streets will surely make a huge impact on safety in the area," said Michelle.
Both Michelle and Christiaan said that they can already see a difference on the streets since the SWCID team started cleaning and patrolling the area since last Friday. Although it is early days, they believe the establishment of the SWCID will make a huge difference in the area.
"It is the aim of the SWCID  to implement a strategy that will counter urban degeneration and re-create an area where all can work and prosper together in a safe and clean business environment," says Gene Lorentz, CEO of Geocentric Urban Management, the company who will be managing the area.
Geocentric has been involved in the establishment and management of improvement districts for more than twelve years; starting with the establishment of the very first CID, the Cape Town Central City Improvement Distric [CCID] and including the neighbouring Strand Business Improvement District [SBID]. Secure Rite Security is the company appointed to provide the public safety services for the SWCID.
Elmare Swano, also from Nadprop Property Management, will be the acting SWCID manager until a manager is appointed in the next couple of months.
Gene urged the business owners of Somerset West to implement a few good practices that will certainly help his urban management and public safety teams to achieve their goal for a safer, cleaner and more business-friendly environment.
They are:
1. Only put out refuse wheelie bins on relevant bin days and return them to your premises ASAP after being emptied (to prevent theft of bins). Do not overfill bins and leave recyclables outside the premises for collection by vagrants. Although stopping vagrants from bin scratching appears unkind, it is imperative to do it to have an immediate impact on crime.
2. For public safety emergencies contact the Secure Rite Control Room on 0860 10 30 99.
3. Please report suspicious persons or any safety concerns to the Secure Rite Control Room on 0860 10 30 99.
4. Please report all broken/missing infrastructure defects, like, for example, drain covers, broken lights or faulty traffic signals to the SWCID Manager  Elmare Swano [acting] on 074 314 8302.
5. Additional information available on www.swcid.co.za or email us at info@swcid.co.za
Gene says they are looking forward to a working partnership between all the stakeholders in the SWCID to achieve their common goal of a safer, cleaner and an environment that attacks and retains businesses.
https://www.somersetwestcid.co.za/wp-content/uploads/2015/09/Launch-scaled.jpg
1920
2560
Admin
https://www.somersetwestcid.co.za/wp-content/uploads/2021/07/somerset-west-cid-logo-2-300x156.png
Admin
2015-09-21 11:25:44
2021-07-28 13:27:36
We made a start!